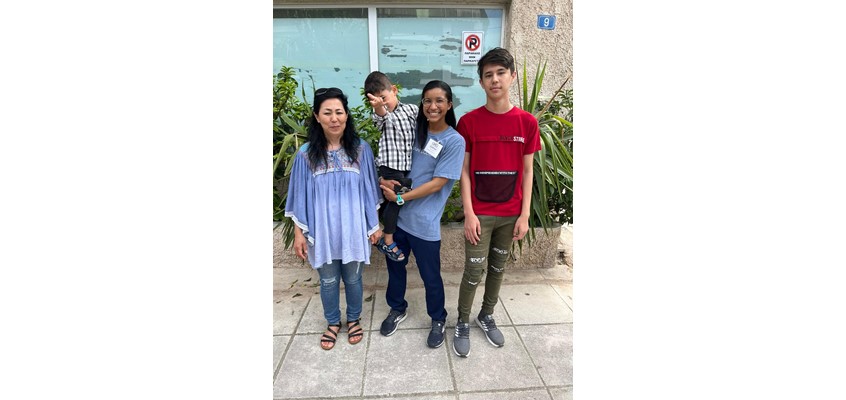 A beautiful young lady with a big smile on her face walks into the clinic accompanied by a couple of women. She is from Afghanistan and spoke good Farsi, Urdu, and a little English. She was here to translate Farsi to English.

She moved from Afghanistan to Pakistan where she learned Urdu and later to Greece in search of a peaceful life for her 2 sons. Her husband died and she solely raises her children. She is currently in the process of applying for passports for herself and her children and said, working with lawyers/ advocates was tiring and frustrating. Her lawyer promised but did not complete their paperwork in time.

After listening to this, I shared with her an advocate we have in Heaven -Jesus Christ who hears, sees and understands her and is there to help her. As soon as she heard "Jesus is our advocate" tears rolled down her cheeks and we prayed together.

All of this conversation was in Urdu, and I was there to share Jesus in a language that I was familiar growing up in a Muslim-populated city in India. I never thought I will use this language one day to share the gospel, "But ye shall receive power, after that the Holy Ghost is come upon you: and ye shall be witnesses unto me both in Jerusalem, and in all Judæa, and in Samaria, and unto the uttermost part of the earth."
‭‭Acts‬ ‭1:8‬ ‭KJV‬‬
https://bible.com/bible/1/act.1.8.KJV.

Attached is a photo of the beautiful young lady- Nusrat with her 2 sons. Special Thanks to Sarah Hossack for taking a picture with this lovely family and sharing it with us.

Share Your Thoughts
Share